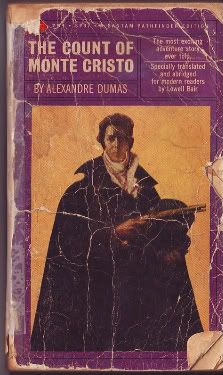 ">
and look what's on the inside back cover……
i'm so sleepy. i guess the journey to the day i sketched that knocked me out. that and the fact that it's approaching 4am.
editing is additioning sometimes –
this book was found some months ago. it was something i guess i was required to read, possible in sophomore year of high-school. i don't remember. i imagine i re-read it in late 1983 while mired in joblessness, a recurring theme in my life. the character escaped from a prison he was doomed to be in till he died. i escaped from my prison by thinking i could make something out of nothing. this has something to do with math. really BIG math. i fashioned a business card from my rough sketch with a friend of mine who knew a thing or two about art. this is what the card looked like;
not having had any idea what i was going to do, i began to make things up. i had no idea what conceptual art was, but it sounded good. i figured that i could come up with a concept as i went along. i knew what was around me and i would have something else to say about that if given the chance. you might say i was full of baloney. i probably would not deny it, but i might say it was a baloney of such color and texture that you'd just have to see it, because after all, what is art and who is an artist? when i was a kid, i could draw "good." that never made me feel like an artist. these type of questions will, on occasion, cause me moments of discomfort. i will forever wonder if the decision to work toward "artistic" endeavors will ever define me.