i had all sorts of things in my mind that never made it to my fingers while i was doing things with my fingers that never made it to my brain.
one of those things is this; i cleaned my office.
i didn't want to think of what i was doing. i didn't want to go in there to begin with.
i could probably count the times i've been in my own office in the past three years on two hands and one foot.
a long time ago, i chose to bring all of my business mail upstairs here, where i'm sitting; where buddy sleeps between the keyboard and the monitor or computer tower itself and tend to what needs to be dealt with only under penalty of whatever…..i would prefer to believe this has something to do with the cancer days, but i was retreating from the office before the diagnosis so i'm not going to throw on any disco lights in that direction. i was wrestling with finances long before the big C was flexing its muscles and i'm pretty sure the dread that began to play in my mind like "the bad places" in any of twenty stephen king novels were making the journey up the steps to my office more and more unappetizing.
there's every possibility that i'll find the need to go somewhere else right in the middle of trying to write about this. i might find it important to speak about the bike ride i took a day or two ago, out to the land of the grifting lizards with my own binoculars, the kind earthlings use and my second attempt at being a bird watcher, beings that i can't be a wildlife photographer just yet.
i could talk about taking a photo of an ocean wave doing something i never saw an ocean wave do. "how'd that happen?", i asked as i clicked.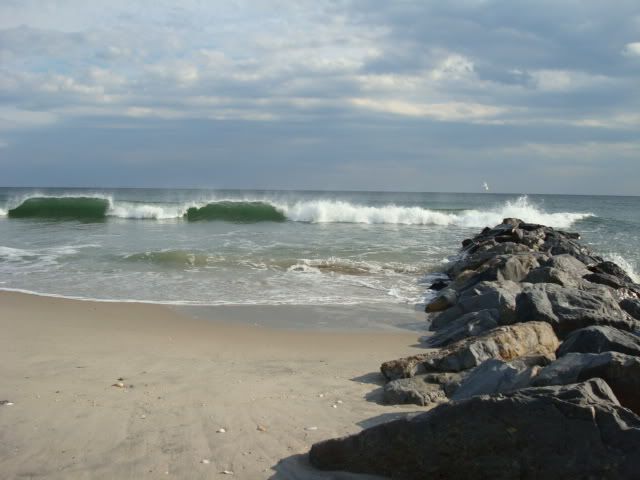 something that i chalked up to planetary indecisiveness.
something that, given the time, i could probably chalk up a whole lot of bombastic folderol and never have to look back at that office, that little space at the top of the stairs that gives me such a case of the shivers.
i would go on and mention that the big tire is still missing and is probably somewhere below this space here….
…or go on about how, on my way here, i parked my bike and myself on the the grass, put my head on my wfmu shoulder bag that i propped against my bike seat, right next to the belt parkway guard rail and was lulled to sleep by the sound of cars speeding by not ten feet from me.
i dozed for about twenty minutes, the sun giving me my first hint of a tan in about as long a time as when i last regularly used of that office, the place i am trying to avoid speaking about. as i rose up to continue on my bike journey, i felt the heat of the sun on my face and for a split second wondered if i got cancer. i think these things when i put a cellphone to my ear. i think of this when i walk under wires or eat food. i think….
and i rode over the bridge and into fort tilden.
then, as i rode the path where the world war two sixteen-inch gun battlements were, i decided i would try to be a wildlife photographer or birdwatcher, something that i think befuddled me. before going on, i might say that "befuddled" might soon enter my national park of favorite words.
i would document my befuddled, artistic process in moments like this;
i would say, "what beauty…." or some other such suchness……
…while trying to sort out why i'm not feeling patient enough to be a birdwatcher or photographer, then start mixing media like i used to mix drugs…..
thinking i could get "whattacloseup" if i put them together…..
…..before acknowledging that less is more and maybe today's not your day for this.
i would cycle past the parking lot where i usually hold my grifting lizard rendezvous and would be shocked at how many cars are there.
it was a case of people wanting to get last-licks of summer.
there was even a federal police car there checking plates and parking permits and i could see in the near corner of the lot, closest to the path i was rolling on, the eduardo cianelli-sounding guy (who looks like omar sharif) beginning to back out of his spot while the officer was occupied with the middle-aged lady in the bathing suit and terry-cloth robe about seven parking spots west of him. i gave him a little wave.
i wondered if he knew that was coming as well as he may have known i was.
i'm sure i'll get the answer first time we meet again.
i would leave here having not spent much time with nature or birds but would cross this bridge back to where floyd bennett field is and chat with a few other naturalist-cyclists who have never been here before. i told them where the old hangars and runways were and how they should just ride all over the place and tell them things about it being new york's first airport. they were young and fresh-faced and looked like they were from boise, idaho.
the girl reminded me of someone i knew years and years and years ago.
for a moment, i envied them their youth.
i'm still on the fence about that stuff.
who am i kidding?
if i were struck young, i'd probably not have that office to worry about.
i'd be worrying about a whole different set of problems that would occupy and consume me. in the end, they would probably have something to do with getting high.
i rolled on. i was heading for sheepshead bay. i stopped and made a call.
i was on the phone with julie of ching chong song who was in the store (that's what i call goodbye blue monday, a store), who had just returned to america after singing opera in austria for a few months.
how about that? i have a friend who sings opera in vienna.
it took fifty-six years for me to say that without lying.
she has a voice that can dance like a ballerina.
we were discussing her trip, the new line of empenadas that we sell now at goodbye blue monday and our halloween show that is a level above all halloween shows ever, anywhere, putting all hallow's eve into another place entirely, at least in my estimation.
this is what's in store here next saturday night;
all this and candy, too.
now, back to that photo above, that one i told you to remember. i clicked the photo as julie and i spoke because it has to do with the book i'm reading called "merde'" by ralph lewin.
the building in the photo is just a small part of a complex that runs almost a mile long on both sides of the street and it has to do with exactly that.
i silently dubbed it the "university of shit" as i clicked the photo and chatted away about empenadas. i thought about taking another photo to further explain the magnitude of this place but thought, no, this is enough.
i can only tell you that the green gate you see that is done in the shape of "waves" goes on the length of the complex and the glasswork you see in the center of the photo is a brown-shaded sun with multi-brown deco rays.
brown. what do you suppose that's about?