a lot of what i'll write was written before, hence the title.
what's more, a lot of what i've been trying to do lately has not been…done.
again, hence the title.
a few days ago, i drove out to the darkest place in the metropolitan area – i added the link for my new friends. most everyone knows what i'm referring to, but i know that i have at least two new readers here.
one of them was a brilliant surprise.
i live for brilliant surprises and i'll leave it at that.
as a secret "nod," i will say that this person is well versed in the world of the irish riveria as i remember.
another thing my two new readers don't know about is my relentless shilling for gateway national park as well as my relationship with that lizard guy who sounds like eduardo ciannelli (and looks like omar sharif). they'll learn that these lizards live quietly among us and cultivate a certain portion of humanity the way we cultivate kobe beef.
at this point, i suggest they click the link below or just start reading this scroll of notes from the beginning.
here's the link about the grifting lizards from mars.
here's a link about "the eighth electro-plasma ocean of the ninth dimension".
i haven't spoken of this in a while.
i've tried to avoid peering in that direction, thinking it could hold sway over matters above and beyond the playings in celestial casinos. i choose not to look in fear of seeing my friend slip by, skittering eternityward (probably not a word till this moment), laughing and howling delightedly.
from me, guilt and shame (in equal amounts) score on my selfish-o-meter while another part of me, the one that roots for joyous vastness, for an end of pain and fear, make me to glance in hope of such a sight.
it's intrinsically-linked in an organic way that sounds totally ridiculous.
i'm totally ridiculous, at least today.
the camera is being charged since hearing that thunderstorms – complete with hail – are headed this way.
i'm sure lightning will work into the proceedings.
my eyes shoot to the window where i see gray and darkness barreling its way into the quiet, blue sky.
a shiver runs through me…."third one's a charm?," i mutter to my heap of maxx, lying silently next to my chair.
againing.
i rewind stories.
i gather maxx and head to gateway to photograph lightning and storms in a huge, open space.
again…as i'm againing, again.
"oh-for-two," in that department.
"oh-for-one," was when i drove out and it became hot and sunny and so humid that the my lizard friend chose to run like hell and give me the finger as he left – the last note posted here entitled "the hot."
"oh-for-two," was a couple of days later when the sky flashed a brilliant light show at around ten at night. i rushed out to floyd bennett field.
all i got was – as i told my musically-brilliant friend – was…bupkis…and a few night shots;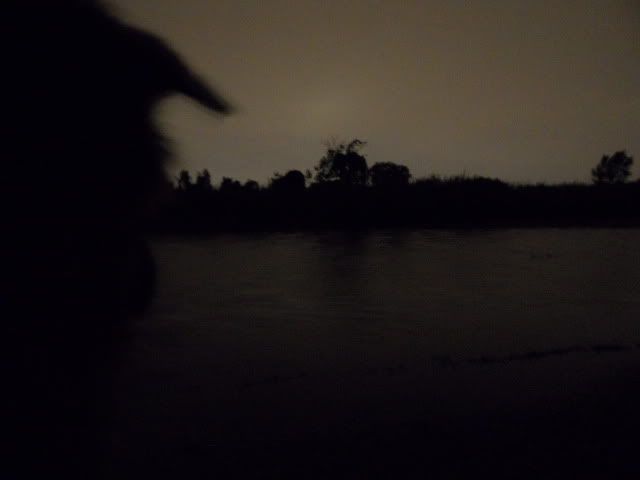 maxx and dark – above.
lightning never flashed and thunder never rumbled, but it was a calm respite. we stayed and walked around for a while and i posted some other darkness-photos in the "earth reclamation project" folder.
re/thunderstorms and HAIL?
yes. i went.
again.
the storm moved north.
i photographed plants in cement cracks….
and maxx not want to fetch…
when the rain arrived, i dozed off in the "wagon" section of my stationwagon with the back-hatch opened, the pitter-patter lulling both me and my pooch to our dreams.
mine involved my dearest friend and it smacked of endings of sorts. the house was being emptied, so many rooms were vacant and the walls, bare.
the whiteness reminded me of other things.
when i came home, i opened the goody bag i had been compiling oddnesses and gifts for our eventual rendezvous and snared a pack of "chuckles"……