i backstroke in a pool of opiated dreams.
a day ago, i floated into a gray world filled with sandstorms; a blinded world with nothing to see on the horizon.
it happened right there, at my desk chair. it happened in a late-evening doze, a momentary nap; a safe moment.
yeah, i know.
pretty much the way life is anyway, ainnit' ?
needless to say, it seemed centered around my friend. there was no "tag" telling me this was the case, but information was posted inside me to that effect, re/she gets loads of space in my head, so why not.
i-tunes set the stage by playing gillian welch's "i dreamed a highway," as i drifted off. it was a song i sent my friend as a lullaby a long while back. "a long while back," is a relative term. as i've grown to know this person for just a bit over two years, it feels like twenty years. understanding i sent this a year ago, it feels like ten years or half our friendship's lifetime.
maybe my computer is disposed to accessing the melancholy in my hard drive's musical file folder on sultry days of protracted non-movement – neither maxx nor buddy stir – the humm and the whisper of fans sweep over us as lazy breezes – manufactured and otherwise – move the curtains ever so slightly.
don't ask me why the need for the image below…..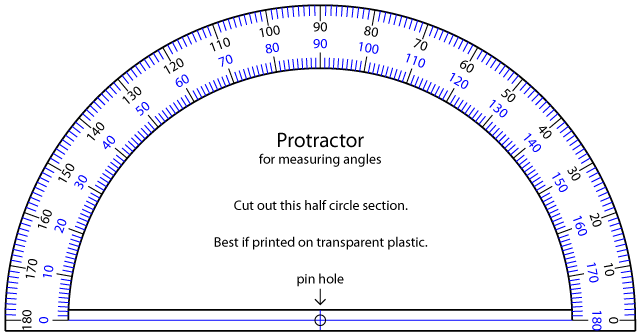 it's the "protracted-protractor" thing that rang in my head.
what's in a word and why do i remember having one of those things and never using it for anything more than making circles, (or semi-circles) at best is probably why.
me and geometry….never mind.
last night –
it's a day later, btw – i seized ninety minutes and went out to the beach. the night was bright, like the moon got more wattage and all the way there, maxx hung his head out the car window with what i believe is a smile on his face.
before driving across the america last year, i read about dogs and car windows. i read about how wind in the face can dry your dog's eyes and mouth, affecting their tear production and saliva later in life.
i kept this in mind all through the trip and noticed that at speeds above 65, maxx would not put his head out and if he did, he turned his head in the other direction.
smart dog.
as a cyclist, i learned the same thing happens to people and as a child, i recall being like maxx, hanging my head out the window for as long as i could stand it.
i can't remember if i thought about turning my head the other was, but i'm sure i did when i got car sick and vomited along route 66.
but i digress…
i made this trip because both myself and maxx (i'm assuming) needed to dive into a cool ocean and that's what we did.
i think maxx was concerned for my safety and followed me, barking. for a second, i thought about the powerful undercurrent – the riptide – that pulls you sideways and out.
oddly, for a millisecond of that second i thought about the utter calm…the release….becoming the ocean…..then i shuddered.
i looked back at maxx and further back to the knapsack with my stuff.
this is how hot-wired a new yorker i am;
i was worried that someone from somewhere would appear and run across the beach, picking up my knapsack with my car keys, wallet, camera and maxx's leash and evaporate into the dark.
the brief swim revived my spirits and maxx – who i soaked to the skin again and again – grew five years younger and frolicked on the beach like it was early autumn and he was two years old.
i groaned audibly when he decided to roll in the sand.
my car's interior explains why.
we walked east toward riis park, the night breeze making me feel proud of my decision to come here. i figured that if i got close to riis park, climbed the dune to the path (the one that madoff's son and the lizard wearing ayn rand drove past us a long while back) and walked back to the parking lot, we would be sufficiently dry-enough to get into the car without making that much of a mess; that is, of course, disregarding the unexpected appearance of the federal park official in the patrol car who met us the moment we returned.
"how's the fishing tonight?," he asked rolling up, the driver's side window lowering half way as i pulled the hatch down, securing maxx inside the toyota.
i wanted to lie but didn't. "sorry – i wasn't fishing. i just brought my dog here for a cool walk."
"you're not allowed here after dark, you know," he said.
"we're not allowed here at night?" i lied. i knew this for years. i also knew he was going to say something about me not having a bumper-sticker about parking here.
his searchlight was aimed at my rear bumper. "you don't have a parking sticker on your car, either," he said. "this parking lot is for fisherman only with the proper bumper sticker."
"sorry. i came here on a whim to let my dog and me cool off."
we were dry, by the way, and questions about the beach and waves never came into play.
"well, you can't do this anymore…"
he pulled away and drove around the parking circle, stopping in front of my car and his door opened again, he got out and approached, as if in afterthought, "you wouldn't be in possession of any illegal substances," he said, he and his flashlight peering into the car.
"c'mon – i'm a geezer with a dog….i haven't even had a drink in a decade and a half, let alone a drug…"
"well, you never know," he said.
by his tone, i knew he was inquiring as part of his job and wasn't going to press it, "well, have a good night," he said and retreated to his car.
he headed to the path we had walked, i headed to the exit.
there's sand everywhere in the car and it's not my fault.
there's a moment each summer when i know i have to be careful at that parking lot. we've been relegated to floyd bennett field, again.
duly noted.
there are 87 days left before maxx can run freely again on the beach and bumper stickers lose their clout.