seems i'm about as wound up and adam amram's snare drum.
went to get a massage.
after myriad attempts at deep-tissue muscle "seperation", elbow-grinding access into the knots that make up everything north of my mid and upper-east and west-spine, shoulders and neck (i think urban geography/human physiognomy), trying to breathe-out the toxics that comprise the tension-filled bag of skin, bones and guts named yours truly, wondering when the mainspring inside me is gonna go "boiiinnggg!!!", my cogs and whirlygigs spilling onto the floor like one of those exploding alarm clocks….


…i left the place feeling beat-up and not any better.
i gave myself an"A" for effort and decided that epsom salts would be my next move.
this happened a few days ago. there's been so much to do this place these past days. music and more music. barbeques and french bakery openings and finding out big-time hubbub bars are staking a claim just on the other side of myrtle and broadway – there's a "beauty bar" in the bush, baby…
new york, LA and bushwick, BK.
i saw there's a load more though i'm not sure if they're all related.
welcomewelcomewelcome.
and of course, i haven't yet spoken about the french bakery that opened across the street. everytime i remember to photograph the place, it's closed, so i'm going to go out right now and photograph it "as is"
this is what it looks like when i photograph it way after it's closed;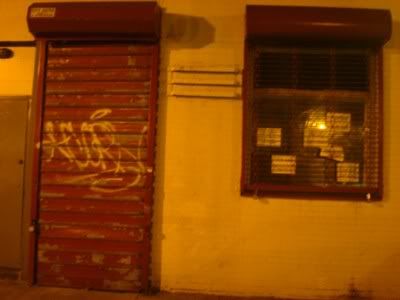 and here's one of the signs in the window that'll tell you that you've got the right place;
and here's what the menu looks like;
he bakes daily and makes wonderful breakfasts, baked goods (croissants, muffins, franco-danishes, cookies and such) and sandwiches.
he takes a fresh baquette and layers smoked salmon, brie cheese, fresh avocado and mixed greens.
oy and oui, all at the same time.
here. on broadway and dodworth. isn't that amazing?
i'd call this place "brie on broadway"
i'd pipe "edith piaf" music out the doorway.
the chef and owner is named jerome.
he is a very nice man.
we made a deal to sell his pastries every night after he closes at 8pm. fourteen-hours-a-day is enough. it's good for everybody.
two-dollar pastries till we close.
the next day, we sell them for a dollar.
day-old fine, french pastries. one dollar.
you gotta get'em while we got'em. oui, oui!
it's a deal you can't beat with a cane or hammer or tennis racket or thick, leather belt with a chrome buckle.
pick your trauma.