today, buddy fell asleep on my chest for the first time in a long while.
this seems to be more of the seasonal change in my steve-to-buddy relationship.
or maybe he knows how worried i am about my friend who still hasn't gotten back to mission control, whose still on the far side of the moon.
animals are absolutely amazing.
yeah, i always say that.
the backyard pigeon i photographed a week ago is still here,

in this photo, he's sitting on a scary corn-faced person that nina made.
nina is the woman in the photo below with her husband, michael. they're artists and filmmakers who met in cuba last year, fell in love and got married, just like that.
they exhibited their work this past friday.
they work here but are heading west in a few weeks.
they got loads of talent, individually or collectively.
after some hours of afro-cuban music, we figured out how to get the MAC and the old-geezer digital projector to work together.
it was accomplished by getting someone with a DVD player and a remote.
it was a beautiful little film with footage from cuba, bushwick and even goodbye blue monday. it was beautiful and smart and sensitive and laced with wisdom.
hopefully, we'll screen it again soon.
i'll add links to the michael's website so you see and learn more about his work.
ditto, nina and the film.
saturday, we had another backyard soiree' – it was our drew grant's birthday, so we had the first BBQ-Farkas-for-hire dance party in the same place we had art and movies 24 hours before.
back to the pigeon; he has a name.
i think it's albert.
someone else named it and it seems to have stuck.
it might be alfred, i'm not sure.
goodbye blue monday has increased it's animal family.
by seniority;
buddy
maxx
that possum that might be known as "ghost" that i haven't yet seen.
albert or alfred the pigeon.
there are days that i feel comfortable in my store. last week there were skads of people who were almost as old as i am. maybe even one or two people who were older.
tonight was different. we had a bunch of young rock'n'rollers inside and a bunch of dance people outside. everyone mingled wonderfully.
i was sooooo at a party i didn't belong at.
i ran like the dickens.
young people are scary.
i went upstairs and got to my desk;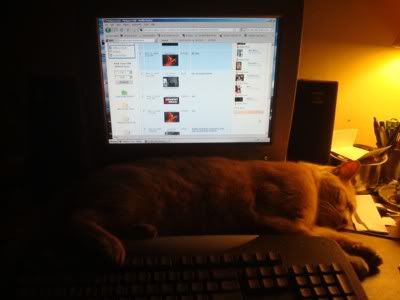 that's just the best.