i stopped listening to black and white movies….uhh…today.
it means something……?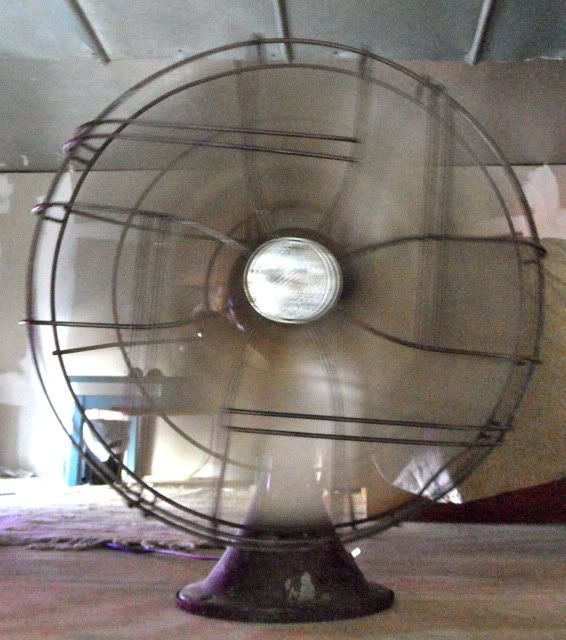 …maybe it's the sound of the 1940's oscillating fan as it sweeps behind and above me from the sleeping loft; the rattling- humm and sweeping "rubble," of old bearings.
is the breeze this fan sends from now or then?
does the old awaken the timeless?
admittedly, i look for information in the darnedest places.
i tell myself that answers, medicine, fortune, luck and miracles lay about everywhere. i believe the atoms from analogue tv, – the "snow" you would see in-between channels – really are the atoms from the dawn of the universe (see link) and hold us gently together in an ever-widening terrycloth towel. something soft and comfortable.
something that wipes the wet eye and broken dream.
this past week, buddy returned to holding court at the desk.
he hasn't done this in two years.
at times, while lying here, he extends a paw and rests it on the back of my hand, or grasps a finger and gently uses his claws to hold it.
i tell myself that buddy needs me. i stop what i'm doing.
he's my surrogate needer.
it works for me.
http://i97.photobucket.com/albums/l213/sbluemon/earth%20reclamation%20project/SAM_3524.jpg
and i tell myself some of these atoms are common to buddy, my buddy, my dearest friend who remains on my mind and on this planet, as we speak and me.
it's a way of holding hands over here and "the eighth-electro-plasma-ocean of the ninth dimension."
what a wonderful thing it is to matter and to be matter.
needless to say, it's important for me to believe this.
by the way;
the word "oscillating" stands a pretty-good chance of making it through the gates of my national park of favorite words.
i need to check if it's on my friend's list.
i somehow think it is, or at least should be.
speaking the word slowly, os–cil–la–ting, it sounds like a teenage tongue-kiss at the "lady of grace," church carnival while in high-school, circa 1969, the site of my first hickey.
from there, it brings me to the night i met a petite, dark-haired girl sitting at the bar, the last seats – two gate-valve barstools bolted together on an "i-beam," laying horizontally on the tile floor – at the far end of scrap bar in greenwich village.
this might be a story about that place.
it also might be a story about the bar business in new york city, as i've been in it all my life, or just another sex, drugs, rock'n roll and violence pop-culture tell-all with names that mean more to you than it might to me.
….maybe it's a love story.
what? do you think i know?
the pink-lit bartop at the lower right-hand is where i'm talking about.
she sat, second-stool in, conversing with a large, fleshy-looking punk with a sweaty disposition.
instincts dictated that she was with this guy, but not "with" this guy, but i've been known to be wrong…..
it was about two am.
the cat-club show let out a while ago and the big-haired rockers and rocker-ettes were wandering in.
scrap bar would be jammed in fifteen minutes.
the dark-haired girl is a little drunk too, but not falling-off-the-stool drunk. i'd learn that it was her night off and she works at another venue tending bar and working the door.
i also learned that she fell off this very bar stool the previous week when she was that drunk, so i guess it happens.
also, she's not the cat-club type.
this was a first-generation punk-rock girl who wears doc martens like she was born in them.
walking from the front to the back of the store, i've brushed by her a few times, passed her on the way into the office twice and made direct eye-contact with her once.
disinterested eyes filled with unintended seduction, mixed with casual distraction makes me hard.
approaching, her friend rose from his seat and ventured to the bathrooms in back.
"got a minute?" i asked, "grab your bag and follow me."
i could feel both our hearts racing.
she followed me as i walked behind the bar and stepped up into the narrow hall that leads into the back.
where else was i?
in the intervening years, scrap bar receded into rock-bar history (IS there rock-bar history?) and after writing the first thing i wrote in years – about the momentary and eventual demise of cbgb's (though it would hack and sputter for another two years), long-dormant neural pathways would remind me i once knew the english language and read books. previous posts explain why.
you needn't be a rocket scientist to connect the dots.
when you're in the bar and restaurant business since the age of 14, there's a common theme throughout.
i wrote the following, seven months after eliminating that constant;
about CBGB's closing;
Tuesday, August 09, 2005-
when i died, as my life was flashing before my eyes on the last day of april in 1995, i saw that we were a moment in time. that we're all moments in time. my dad, steve (there were a few uncles, but no one loved me as much as him) chose not to go to the wake or funeral. instead, he came the following morning and filled my stairway with wonderful white flowers and so much love.
i don't think anyone knows just how much he loved me.
a couple of days later, he met with the doctor (we'll use that word instead of "landlord"). they told him that they can give me a transfusion (that's another word for "lease") and that dad could take care of me for another five years. i watched as he looked at the walls, his fingers touching the stone walls and i flooded his heart and mind with memories and promises. how odd it was to hear him say, "no. i don't think so. i think it was enough."
well, CBGB's was very lucky and blessed, but sits in a different world now. go there and look around. it doesn't belong there anymore.
the east village and lower east side has become the "lower-upper-east side."
that place died ten years ago anyway.
it's over. trust me.
i know dead.
————————————
this wednesday past;
i drove out to the beach at around 11pm.
i brought my camera but wasn't thinking about photography.
shooting at night might be a few weeks beyond my calendar.
the opportunity presented itself because it's better for maxx at night out there and frankly, better for me. the summer season has gotten busier and busier with the popularity of gateway, not to mention the heat.
another reason for these nocturnal journeys?
i'm not going to deny my part in this desire for darkness.
this particular evening, upon my arrival, this trip seemed different and it took about five minutes to understand why.
this is the only photo i took.
the stars were full and briliant and the sky was richly dark.
maxx unleashed, seemed tentative and almost spooked.
he hung close to me and walked guardedly, constantly looking around.
the big, "aha"didn't take too long.
there was no moon.
doing a full three-sixty, i took in the darkness and examined the halo of light thrown off by the surrounding areas in the distance – new york, new jersey and long island.
there's a different universe when there's no moon, believe you me, (a phrase i love saying but grammatically question when saying it), at least to my canine friend.
but i was talking about scrap bar or bars in general or something…..
wasn't i?