it was a movie that was part of my up comingness of young adulthood. in my high school days, i pondered more the lyrics of paul simon than the cinematic genius of mike nichols.
i liked ann bancroft since she was wrestling with patty duke in the miracle worker years earlier.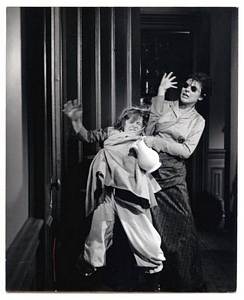 not sure what was in my nine-year-old mind then, but….
ann bancroft in dark glasses and victorian garb., yowza!


but back to the graduate;
paul simon's writing resonates even now. i couldn't begin to count the
times i listened to the parsley, sage, rosemary and thyme album (which
was the soundtrack before the soundtrack) and as i would relive the
film i would never relate to the characters so much as i would the
confusion which was beginning to germinate in my own yard, so to speak.
what made sense to me was the last eight minutes of the film. what i
always wished to know was this; what did Ben and Elaine do after they
got off the bus? now that's a movie that cries out for a sequel.
"the postgraduate" – it explores their relationship for the next ten
years, through the '70s. it starts with their escape from california to
new york city where she goes to columbia and he, after months of
slacking and moaning, calls his father's friend from the graduation
party in the beginning of the film (the one who tells him about plastics) and gets
him a job with his east coast partner.
ben's natural manipulative ability runs him up the business ladder quickly.
elaine switches her major to business law and like so many of the idealistic students of the late sixties, they end up among the first generation of yuppies and
there's a scene with them hanging with jerry rubin who introduces them
to the world of high-end real estate, disco, cocaine and sex parties at
plato's retreat at the ansonia hotel. there's warhol and watergate.
you see ben scoring dope in harlem with an errant kennedy while elaine is
dancing furiously at studio54.
she's all hopped up on the cocaine.
addiction, violence, loss, redemption.
they part.
she remarries, becomes a legal aid activist and remains in new york.
he's last seen boarding a plane.
dissolve to;
PALMS SPRINGS, CALIFORNIA – 1997, twenty years later
to the tune "old friends" by simon and garfunkle.
they meet at services for mrs. robinson.
elaine and ben go for dinner where they fill in the blanks to each
other about the last two decades. elaine shows photos of her children,
all grown and living on the east coast. she explains that her husband
and youngest daughter died in 1992, victim of an auto accident caused
by a drunk driver.
ben explains he moved to northern california and became a postman and
remained such until four years ago when he received a letter from mrs.
robinson asking if he could please come and see her.
he tells her that her mother told him that she had been diagnosed with cancer
and asked him to be her caregiver. he tells elaine that they had
"unfinished business" and the two times she visited her mother in the
past four years, he went out of town aware of the possibly explosive
situation. he also tells her that mrs. robinson had amassed quite a
fortune over the years and it was all willed to him.
well. most of it, anyway.
"you bastard" cries elaine.
the end.