i wanted to take maxx to the nuclear beach of death and butterflies, but time and expense forced a shorter trip, so we went to canarsie pier. it's a more-urban part of gateway national park and as the tide was out, there was enough beach to walk, though the calm bay water is markedly dirtier than the ocean.
i used to swim in the dirty water of sheephead bay and almost drowned there, but that was years (and notes) ago.
parking on the pier,  maxx and i began walking west toward flatbush avenue.
i would learn that this was once the greatest areas for fishing, clamming in the northeast.
here's a lethal musselbed: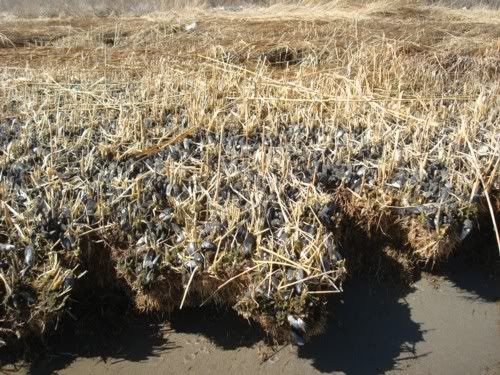 i recalled a kid named kenny wiseman who went out into the waters of jamaica bay, somewhere right around here and the riptide under the innocently visible sand bar and deceptive waters just a few feet further out took and drowned him. he was fourteen years old. i was a few years younger than him. i am now scads of years older than him. that's how time seems to work here, but all that goes out the window when i close my eyes sometimes.
i may have seen him when i last drifted to the eighth electro plasma-ocean of the ninth dimension. he may have been chatting amiably with bella abzug.
the message conveyed to me by the universe when i hit the chevy on january 22nd, 1962 was this; you're not here today and gone tomorrow.
you're here and gone, just like that.
we can call it the "fly-swatter" effect.
that's what happened to kenny.
he was sucked away by the ocean and found a couple of days later.
it was the ocean going "slurp".
that's what the planet and the end of luck did with kenny.
it was kenny's math in the eternal casino rolling snake-eyes.
it's like when i had enough saliva to swallow my own spit and a few seconds later, hack a little bit of it and my growing emphysema onto the pavement.
cigarette smoking gave my spit "heft"
phlegm is saliva on steroids.
i don't have all that much saliva left.
radiation took care of that.
every now and then i hack-up a dryer bit of emphysema and deposit it on the broadway blacktop, something that reminds me about how lucky i am.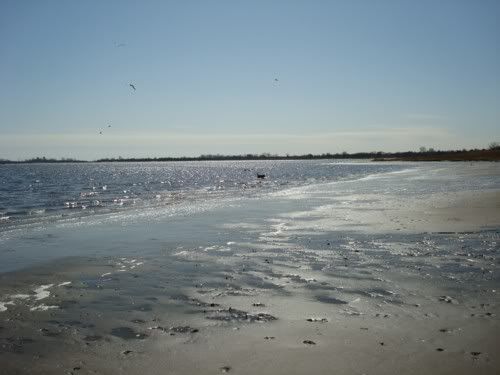 forty-something years ago, i rode a sears, twenty-inch bicycle along the same stretch of brush and beach that ran along the belt parkway that i am now walking with maxx. this was before the federal government decided to clean-up and save this area and give it that new name, "gateway national park," a name i just realized might have something to do with jamaica bay being the "gateway" to new york city.
it only took about thirty-five years for me to figure that out.
the feds would take over and preserve the wetlands about six years after kenny shot craps and lost in the early 1970's.
myself and three other friends cycled from sheepshead bay, brooklyn to oceanside, long island. not bad for twelve-year-olds on twenty-inch bikes with vee-bars and banana seats.
ynujhaz – that was just typed by buddy the cat. i'll leave it there.
it might mean something to somebody.
somewhere in this reverie, my father called.
he told me that the bar that i worked in for ten years on the upper-east-side was in the new york post. i was working there when i got that idea to do that warehouse thing and ebay thing and that move to bushwick thing and open a store thing that became the goodbye blue monday thing. my father told me there was this story about bernie madoff and how he was a regular customer there and my dad wondered if i remembered him. i told him didn't. this restaurant is located in one of the wealthiest zip codes in new york city. that's 10021. i think only deniro-land (tribeca) has a higher per-capita average income (10013). there were loads of "celebrities" of all kinds who dined there and surely still do. this repulsive maggot has now earned the christmas-lights of celebrity.
he was so sneaky that even the grifting lizards from mars missed the memo on this guy.
the post (go figure) listed his dining choices from the primola restaurant dinner menu.
but i digress…
maxx loved the beach and running in the water. i thought silently about my dog being sucked away by a riptide and called him back to me. we walked along and i noticed that the water level of this area wasn't as high as when i was a younger person. there was a lot of waste and garbage at the high-tide mark but chose not to document it, but then found a piece of plastic that's probably going to outlive humanity and thought pretty good about it. it tells me that the planet will be just fine;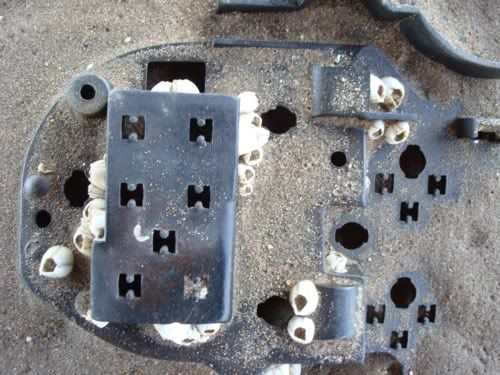 after a while we headed back, walking along a path next to the belt parkway. there were birds that may have been some kind of thrush or maybe orioles.
they had orange breasts. i googled a little. i really haven't a clue.
i really need me a better camera. something with a couple of pounds of zoom.
there were these three birds you see and a nest. as i clicked, they flew off and as i walked on with my pooch i saw another and snapped it, too;
i looked down from where i took this picture and looked into the brush and brambles and saw what appeared to be an ocean-bleached log about four or five feel long. it was whitish-grey with water-softened lines like driftwood that had a long, serene story to tell. at the end nearest me, about fifteen feet away and with maxx beginning to pull in that direction, my eyes identified the large head of what appeared to be a dog – like a large staffordshire terrier. then i reassessed what i thought was wood and realized it was the the dog's body. pulling maxx close to me, after one of those brain-readjustment-blinks, i took in the site again and yes, it was a big, white, dead dog. now, as i'm looking at it, i'm looking into the dog; the dog is wide-open at the neck, angling down at the breast, and the slice was long and sharp and the entrails visible. they, too, were white/grey, because the blood was long gone.
i thought for a second of documenting it with a click of my camera. a rush of sadness engulfed me. i looked at this big, dead dog and connected the dots.
someone this animal loved and trusted did this.
like running out of luck in the bat of an eye, this pooch found itself traveling to untold places in a singular cry because everything was disconnected in no time at all really, it's final yelp never making it to the letter "p."