reeling in the sense of satisfaction from monday's health inspection, buddy spent some daytime in the store tuesday and strutted hisself across the counter, showing "susan book club" (that's her new name for the moment – she's also susan hwang and susan accordian, too) where he did his earliest tough-cat shtick back in the early gbm days when he would throw people's money off the bar or sleep atop the refrigerator during agonizingly loud noise shows. he was definitely reaching into his past glories and made it clear he still has it. there's a distinct possibility that another cat might detect an awkwardness or clumsiness evident in an older cat much in the way i see a forty-something-year-old rocker try to do a punk-boy-high-kick or split.
you reach an age when the splits or high-kicks look awkward and you dig down and get closer to earth like this;

this is getting older in a possibly uncool manner;
. i love this photo. it keeps me grounded, reminding me that the saying "you're as young as you feel" isn't necessarily true.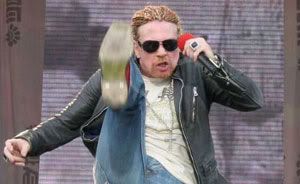 i'm older than you and i'm older than him, and sometimes when i'm happy, like when we passed the health inspection this past monday, i wanted to wind myself, coiling my body tightly-right and launch myself up, spinning myself left, not caring how and where i landed. i lived briefly in this world in the late 70's and early 80's. it's the 21st century. i chose to NOT do what i thought of doing. i figure i'm daring enough….


very slamdance, which is what evolved into the "mosh pit". this link is all about mosh pits.
this might just be an opportunity to show that axl rose picture again or it might be a perfect segue' to something that happened today, wednesday, a snowy, rainy day here in the borough of kings, in the skies of goodbye blue monday.
jack and matthew were coffeeing when i walked in, looking to begin coffeeing, myself. matthew was recalling a story he heard about how billy idol

-was wasted in a club somewhere, sometime and had to be rushed to a hospital and get his stomach pumped and how they extracted, (all together now….)
a gallon of semen from his stomach.
"hey" i said. that's urban legend and i think i know where that legend started.
in the late '70s a club opened on the west side of manhattan called "the fun house" and the legend (in my history, at least) began with a "wasted rod stewart being rushed to the hospital" with the same gallon-of-semen problem.
i maintain it's the original pop-culture gallon-of-semen problem. it got so much water-cooler conversation back then that i remember how people speculated about how many man-hours and men would be required to make that happen, and so on….
jack offered that it was possibly around the time of his "do ya think i'm sexy"


which, historically, was right on. 1978-9
i posited that there might be other stomach problems to other celebrities and sure enough, drew grant, jossip editor, arrived to begin coffeeing.
i turned to her (as she is our resident pop-culture expert), asking what she knew of these stories.
"urban legend" she said. "a cheerleader in middle america and courtney love," were her victims. in my next venture for more coffee, andrew katz, frontman of the new york howl was given the same question. his victim was a member of the new kids on the block.
ok, goodbye blue monday note readers.
if YOU heard a similar story and have a name that had the semen-gallon-stomach-pumping experience, send it here. please don't make them up.
send us real, honest made-up stories like this.
mail them here (hello@goodbye-blue-monday.com or myspace.com/goodbyebluemondayinc) –
repost this or pass it around –
we want as much as we can gather, and i'll list it when all of the stomach-pumped info is in.