MEANWHILE…in that minnesota rest area, after not finding a motel to sleep…..
i felt a little uncomfortable as i gathered myself in the back of the car and prepared to sleep. i took maxx for the pre-sleep walk and my eyes were drawn to the driver's side tire.
it looked low, but of course, "radial tires are supposed to look like that, right?" is what i heard my lips say.
"yeah and…..," the processor in my brain offered;
"…. that lump in your neck was an abscess."
"…lee harvey oswald acted alone in dallas when you were in the fourth grade."
"…. world trade center building #7 collapse wasn't a controlled demolition."
yup.
i stretched toward the front of the car looking for the tire-pressure gauge in the armrest/stashbox between the front seats. i knew it was there. i bought it at the strauss store on broadway before it disappeared, a victim of the what's happening in america at a phantom-accelerated rate…..
it was one of those impulse purchases that occur as you're paying for the other shit you just bought but there's a jar of tire-pressure gauges right there….and well….i mean, it's a nice color red…sorta shiny….
mine looked like the one on the bottom, but i digress…..
so with this in my hand, i climb out from the rear of the car and walked to the front, maxx in pursuit and press it firmly to the tire valve.
the tire had ten pounds of pressure remaining in it.
operating pressure is 32 pounds.
shit.
i went to the back of the car, pulled the spare tire and the hydraulic jack out and carried them to the "problem area."
this jack can lift your car up in five seconds. you can change a tire in two minutes.
this is a scissor jack, the kind you usually get with your car. i don't want to tell you how long it takes to change a tire with one of these. some of you already know.
after changing the tire, i needed to repair it. i drove for almost an hour on route 90 going to gas stations and truck stops with no success. it was four in the morning. fuck it. i needed sleep. i saw another rest area and parked. i stayed in the driver's seat, threw a coat over me and fell asleep.
i awoke at dawn, maybe a couple of hours later. i got out of the car to stretch and make use of the federal government's sanitary facilities.
i immediately noticed that the car was pitched downward.
the spare was flat.
yikes. i reeled for a second, then walked to the back of the car, opened the hatch and pressed the slow-leak tire to see if there was still air in it.
there was.
it was back on the car in minutes.
before leaving the rest area i saw a man who was hoisting old glory up the flagpole and he told me where the next truckstop was.
a minute later we were limping along I-90 at 35 miles an hour.
at the truckstop, there wasn't yet a flat-fixing mechanic on duty, but there was an air hose. i filled the tire and got information from someone who told me about a place that would be opening in a while that would see to my problem.
it was on a small road that sat next to a stream.
everyone spoke like they did in that "Fargo" movie. they told me that the mechanic would be showing up in about twenty minutes.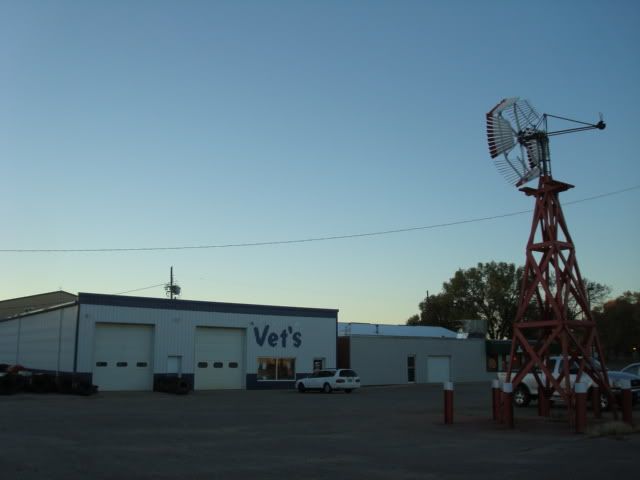 i took maxx and we walked along the stream and i thought about this journey and how much of a journey it didn't seem to be.
it's hard to explain this feeling. i'm still working on it.
i had begun to worry about "what i have to do when i get back," and was losing my ability to stay in the moment. i was counting my money (or lack of it), was worrying about things that were totally out of my control and couldn't hear the sound of the rushing stream beside me, something that was so easy to do two days earlier.
maxx wanted to jump in this river but it was a little too brown for my liking.
i heard a few trucks pulling into the lot where i was parked and saw that one had the logo of the place (called "Vet's) which told me that the mechanic may have arrived.
we headed back and i spoke tho the guy (who looked like Ron Courdry, that guy from the daily show and now "Children's Hospital" an eleven-minute show on Adult Swim that is greatly twisted) and he commenced to repairing the tires.
the slow leak tire was repaired and put back on the car.
the flat-spare tire was different. he said that he couldn't find any leak on it. he tried and looked and took the thing apart from the rim and could find no problem.
it was a tire that needed the weight of a car to press the air out of it.
"oh well," i said. "it's a twenty-mile spare."
i paid for the repairs and hit the road.
i got back onto route 90 and when i found another rest area, i pulled in, parked, threw a coat over me and fell asleep.
when i woke up i saw that i had a voicemail message from my dearest friend. it made me feel terrible that i wasn't there for her. she was offering her concern about my flat tire situation, as i had texted details of the beginnings of this flat-tire story.
i called and left an "all's clear" message.
my problems don't amount to anything more than air and rubber.
this was the message i needed to hear since dwelling about things while walking along the stream with maxx a while back.
the plan was to cross the state of minnesote, find route 35 south, head to the state of iowa and find cedar falls, the home of tom's parents.
when i found interstate 35, i looked at my map (yes, i used paper maps on this trip) and saw that northfield, minnesota was a bit north from here, about 40 miles, so i decided to go there first.
there's a goodbye blue monday coffeehouse there that i saw online at times.
what the heck, i thought.
i went there, had a chat with the owner, drank a cup of coffee, took a photo and headed south.
this is goodbye blue monday, northfield, minn.;
on the way to iowa, i confirmed a dinner invitation with my friend tom's parents.
i had about three hours to make it there, more than enough time.
i was about 25 miles from their home, rolling up a hill at around 70 miles an hour when i felt and heard bad things happening in the area of that same tire from this morning.
shit.
i slowed the car but continued to head for the top of the hill.
it felt like forever to get there.
i pulled over onto a gravel shoulder. (a gravel shoulder? – i asked myself), got out of the car and opened the back of the car. i stared at the spare tire and took a deep breath before touching it to see if it still had air in it.
it did. i figure it was going to be that twenty-mile spare or hoped for it anyway.
getting the car up safely on the jack was a task, what with the gravel and all. there was also the issue of cars passing by at around 70 and 80 miles an hour. the wind generated by this continually threatened to blow the car right off the jack.
i changed the tire like a ferrari formula-one pit crew.
in the middle of this, my phone rang and it was tom's mother, libby.
i briefly described my situation and told her i'd call her back.
the tire was changed (again, thank's adrian for the hydraulic jack), i got in the car and proceeded forward at breakneck speed.
i called libby who called rick who called me.
we planned to meet at a place that sold tires.
it was called "blain's farm and fleet"
the place was as big as rhode island.
the spare tire held till i got there.
i bought two new tires. put them in front, kept the passenger-side tire as the new spare and ditched the two "adventure tires."
i dined with rick and libby.
i ate chicken with mushrooms and veggies and salad and was given a delicious muffin and coffee to go in a thermos-cup.
maxx ran around the beautiful house and stole all the pillows he could find.
rick and libby were very kind and patient with both of us.
i don't doubt if i seemed a bit crazed.
that night, i made it to route 80 and the state of illinois, south of chicago, found a motel where maxx was accepted after five places that said no and i slept like a baby.
the rest of the trip home was a quiet ache and inner sadness.
as we drove through pennsylvania, i stopped at every stop rest area.
we both knew….
vacation ache