a part of me rolled away from the front of goodbye blue monday on my fancy italian bike that's made in america with japanese parts that (for all i know) are made in china that i bought from a guy who said he stopped riding because of "knee problems."
i would find out that this was probably untrue when he had another bike for sale at my doorstep a week later.
i didn't buy that one.
i rolled down deKalb ave till i was in brooklyn's downtown, then headed to the end of atlantic avenue where the lawyers are.
i had to drop off papers that altered my life "a bit."
i'm putting a lot of things in "quotes" these days.
after i did this, i walked outside and unlocked my bike and looked toward the harbor and docks two blocks from where i stood.
some moments, i consider everything about "my life" a hoot.
i'm not saying this in a good or bad way.
i'm saying it in a tragicomedy acid-tinged rodeo of intergalactic extraordinariness sort-of-way.
also, i'm not saying there's any uniqueness about my journey either, but i do believe that when you white-water portions of your river-of-life (without a paddle) and make "whim" part of your spiritual journey, one's life might lie closer to the green felt that covers the padded bumpers found in certain areas of the billiard-table cosmos.
this, of course, is the room adjoining the big casino where dice dance and stacks of chips of varying "fortunes" shuffle to and fro across more of the same odds-on-green carpet.
i guess it's part of the same megacomplex.
lately, when i'm walking, after remarking to myself about the state of my sciatica (present or not and if so, to what degree) i look down at my footfalls wondering what keeps me from turning into liquid upon contact with the pavement, followed by rapid vaporization becoming a momentary cloud whisping up, into the air, joining the passing cumulus on its way to "the eighth-electro-plasma-ocean of the ninth dimension"
i watch my step. "i'm getting there, but first i have to be here…."
but i digress. i check to see if i did this already.
i do it all the time.
i do this to anchor myself.
"good luck to that," i say to myself, slightly above a whisper, as i move on.
i walked with my bike to where they're building the new park on the east river where the brooklyn piers are.
last year, i cycled around and took photos of this area where i saw "SKANSKA" signs affixed to corrugated fencing everywhere i went.
i think i wrote about it in this valley of electronic wanderings.
i may have muttered something like, "the swedes are building this thing,
not that there's anything wrong with that."
as far as i'm concerned, there's absolutely nothing wrong with anything.
uh huh….
the photo shows the southern-most tip of manhattan at the beginning-point of this park that's supposed to extend to the brooklyn bridge (where there's that other park that runs through DUMBO and beyond). right now, this park is about fifty feet long.
it's an ambitious project.
a park built on piers with a view of lower manhattan.
imagine that.
i sat there and thought about how i ran out of ideas about things.
for instance, my brains flatlined after seeing the press continue to give a platform to lies, fear and stupidity by way of what is known as the political process – e.g. – caribou barbie is a force to be reckoned with, all of a sudden the oil in the gulf is "disappearing," as are the problems connected with it…. that stuff – but it's more than just that.
it's much more than that.
i'm not saying anything other than, that to me, nothing matters much.
hmmm….. i need to clarify this, but i can't. not yet.
i got on the italian american japanese bicycle that might be chinese and stolen four years ago and began to roll along the shoreline into and through the red hook section of brooklyn.
i haven't done this since i was quitting smoking.
that was about fifteen years ago or twelve by the way the cancerbird flies.
just a note – cancer, like love, is all around.
i only bring this up because last night, as i sat writing this (or beginning to, anyway) my phone rang. it was the people in my store downstairs telling me they were sort-of "under attack" by a group of youths who began throwing rocks into the store and assaulting the peaceful calm that is goodbye blue monday.
i ran downstairs with maxx in time to see some punk shithead kids across the street cursing at the store's patrons who had come to see the musicians performing here. freddy, the sound guy, pulled out his phone and wielded it as a "camera" causing the douchebag punks to recoil.
i moved forward with my dog and also brandished my cameraphone and watched the kids back off and retreat, their hands to their faces.
it was like life became an old vampire movie and we had crucifixes.
i called the police.
as i sat and waited, i began to do math. my math.
i felt the adrenaline rush of danger and the night's darkness. it was what? three years ago? right around the exact same time of year?
i tried to affix these coordinates but remembered the difference between then and now. i was at that darkest moment, probably ever in my life, when the chemo and radiation had me standing in front of a gun-wielding fourteen-year-old on a bike, right here, right in front of my store, the only difference being my desire for him to pull the trigger and get me the fuck out of here, then realized that while i was writing upstairs, i was listening to christopher hitchens talking to that CNN guy and when i glanced up at the TV screen off to my right, i saw the bald-headed stringiness of his cancer in the familiar greyness of his face and yup, that was it, my life in rewind until my phone rang and i ran downstairs.
that's the kind of math i was doing.
so, yes, this was cancer anniversary day.
for me, everyday is cancer anniversary day.
and fuck you if you think i'm being maudlin.
i'm being celebratory.
but i continue to digress…..
as i rolled away from where that photo was taken and headed down columbia street, my mind was fixed on the silence about three-thousand miles away from where i was.
i have a friend who's been dancing the marathon cancer calypso out there.
it's heart and mind-numbing and has become an obsession. i signed onto the journey a long time ago and am riding it till it ends at the cafe table.
that's where this will end.
a cafe table with two cups of tea or coffee.
or one of each.
or something.
i just know it.
i kept riding, passing an artist colony/studio, a kayak pier that gave an unobstructed, close-up view of the statue of liberty, a ferry pier, a place called steve's key lime pie and a garden supply place that was pretty mind blowing. it said something about "chelsea," as in NYC, so these folks had some bucks.
there were cobblestoned streets that were ornate in their placement that i chose not to photograph. you'll have to find them out for yourselves.
i thought about how i would escort my cancer-free friend out here and how we would do lunch where the trolley cars rest (yes – there are trolley cars, old, dilapidated ones "totally gone to seed") – and go to the galleries in the winter and huddle against the cold and the wind i imagined just now, here this eighty-five-degree summer afternoon.
i can dream.
boy, can i dream.
then i saw something that's been part of my "life's eye" for as long as i can remember.
if you've ever driven on the gowanus parkway, that strip of highway that bridges the BQE-Battery Tunnel area going toward the verazzano bridge or the belt parkway and looked harbor-wise, you would see this giant structure.
to offer perspective, look at the cement truck at the lower right corner and understand that the grain terminal is a quarter-mile behind that truck.
as i approached it from the park behind and to the side of it, i saw that i could get to it by jumping a fence, simple as that.
i tossed my bike over and made the leap.
i've made many "leaps" of late.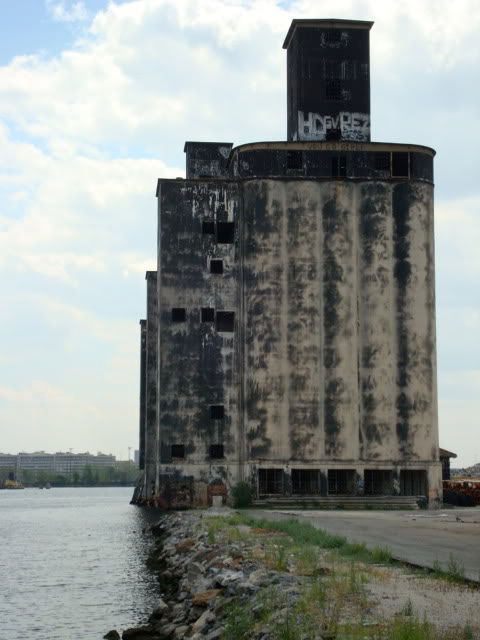 i was pretty excited about it.
i think the grain silos are 200 feet tall.
there's 54 of them interconnected within the single structure.
yikes!
i snapped and clicked away.
i found relatives of the big tire from fort tilden, causing me to look around for lizards from mars.
there were none, or at least, none that i could see.
this place became a respite for an hour or so. i clicked and wondered and worried and let go and held on, then clicked again.
i climbed to places i didn't belong and asked myself aloud if i might be "tempting fate".
i decided to do the real ballsy (that word looks hilarious) stuff on another trip, like with someone who could call an ambulance when i did something with the potential last word "oops" or "uuhhh" connected to it.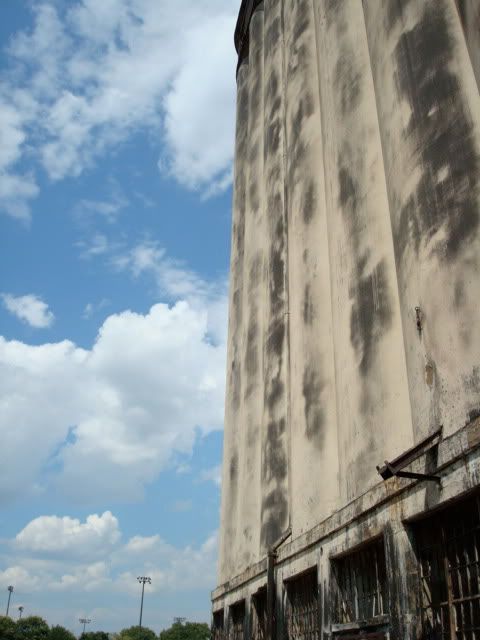 i look to the soot-scarred walls as this cement monolith rises to the sky. i figure if i can find an image of jesus a can make the real estate deal of the week….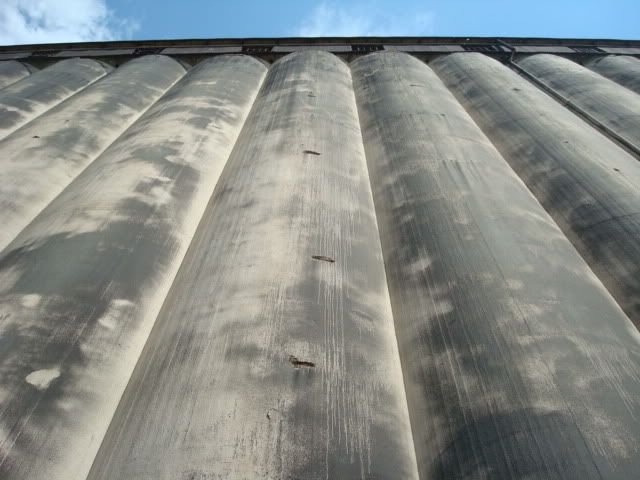 …and all the while i'm spending the day wondering when my friend will wake up.
i would look up. "click-click."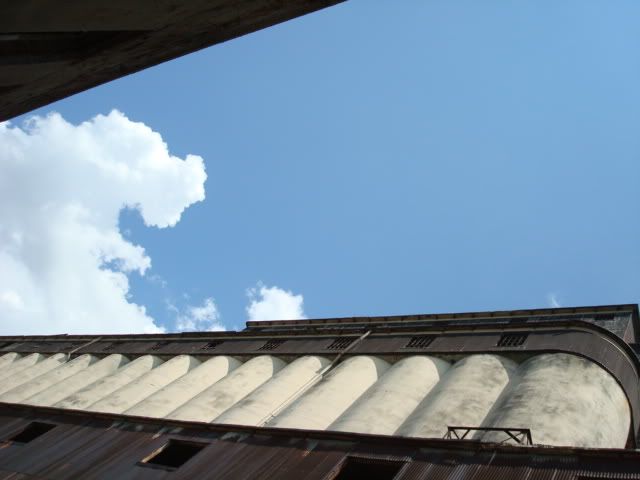 after adding the last pair of quotes to the words above, i thought of doing what i have done all along here in noteland.
i would link the meaning or some other such suchness to it; information, sarcasm, irony or some other device.
but sleep is so seductive.
something at my core ached.
i decided hunger trumped sleep.
i decided to toss the bike over the fence and follow it with my derring-do self. i twisted my knee enough to remind me that i'm, "in over my head," and this message, i felt, encompassed me fully.
not that it mattered at this point, but that was the point exactly, so i rolled home slowly, reminding myself about what matters most.