my bill ain't getting any smaller, only the spiraling rate of reboots necessary to get online per/ sixty-minute chairclimb is up 40%.
so, i'll begin this blog with an apology and explanation. cablevision is sucking more than money out of your (and my) pocket, especially when they're "upgrading" service and not telling you about service interruption or a window in which this problem would continue to persist. that indeed does suck and not in any good way.
this was the reason we dropped verizon some years back.
i'm writing to let you know that we know and we want you to know that we know.
we're into the third day of the annual bachfest on WKCR – 89.9 – this goes on in my loft or wherever i live or drive. it goes on for eight days.  it hasn't anything to do with hannukah, a celebration that also goes on for eight days that may have started at the same time.
me and my short-information-attention span rely on my loving this music and now, with this available innernet information, i can refer to his name, read a little bit about him and say,"looks like he enjoyed his bratwurst," with a degree of certainty. he may have been a little "large" according to the portrait they show of him, (not that there's anything wrong with it), then i'll file the new information and use it at my next hoity-toity dinnersplash.
i also read that both of his parents were dead before he was eleven years old. that was humbling. the web has made me an occasional "scholar-on-call-lite"
happy hannukah!
no doubt though, johanne sebastian bach was a goy.
the holidays, travel and family has made my bloggery commitment (to myself) null and void for the present. i might be using that as an excuse for the overwhelming sense of resignation i'm feeling for so many reasons, among and not limited to understanding the ramifications of the actions of Madoff and company and how many interconnections grow out from this one alone. damage control to major tom.
commencing account-down, umbo box on….
i need to go to a good place, like this past week, up to and including this eve and night when we ran dark and unscheduled.
Dandelion Snow-rescue bird-emergency party-marionettes of santa-susan hwang, ryan doxtader, jen and the moon, Padded Locked, living in polaroids,Chloe Matheou, duckNswallow, buffie gilbert, more players who met that night (tree-trimming) but can't recall their names, sam & simon (of the WOWZ) – fantasierock – crispus attucks – the Woes;
i can't thank you all enough.
here's a few pics – my camera was in the shop and the camera i borrowed was… uncooperative.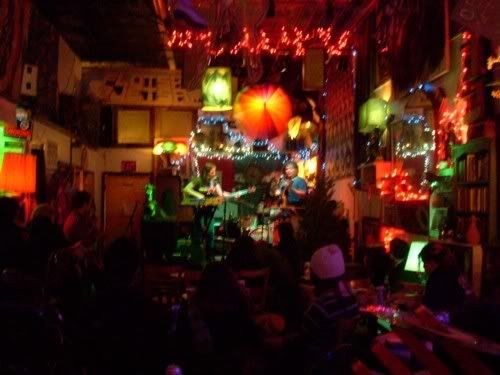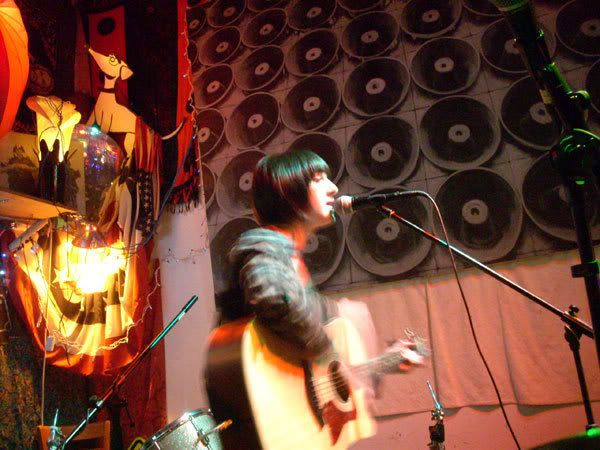 we hope we were able to salvage some of the streaming video, as it took a hit as well because of cablevision's unannounced upgrade (they won't admit it's happening, even though all the technicians claim that they have been powerless to repair anything and the problem is system-wide)….i have already touched on this crapola earlier. i revisit it, i get so fucking pissed off.
but not as pissed off as this guy in the santa suit in california