it's a good name for this post even if she isn't already a crazy cat lady, but i told her that she has an excellent chance to be one.
she rescued a little ferile kitten (i saw pictures this morning) and has two other cats elsewhere, so she qualifies.
as the world's biggest buddy to my buddy…..note – this is buddy, as if you didn't know or don't remember –
– i applaud cat ladies. she is a self-proclaimed crazy person, by the way…..
i am a crazy geezer.
i will become a crazy "old" geezer…..soon.
someday soon.
i too, am self-professed crazy and have a slew of witnesses,
but i digress.
i was talking about a cat lady.
my crazy cat lady friend wanted to get out to see some gateway national park-kind-of-nature. when i went to pick her up, i found out that she lives in my old neighborhood.
she used to perform at "paperback burlesque" shows put together by my dear friend, jo. that was back when i made tee-shirts and not coffee, right here at GBM.
jo has since become a published author and her book is coming out (soon).
i'm proud and happy for her.

jo weldon is the epitome of the phrase, "all this and brains too."
the link at her name is to her blog. she's a "good read."
she's smart as a whip and knows how to use one.
a while ago, she tended bar at scrap bar, atlanta.
a few years later, we shared an eighteen-foot truck from georgia to new york.
that was almost fourteen years ago.
imagine that.
she introduced me to the cat lady who shared gateway national park with me and maxx this day, but i may have already said that.
this day was maxx approved….

……and this is the cat lady on the beach;
i think the last time i saw her, she was on our stage at goodbye blue monday in a vaudeville/C.I. burlesque review about three years back, but this day, it was a relaxing stroll on the beach while we shared small talk and she collected shells.
i was inexorably drawn to the almost-still ocean waters. it was low-tide.
thoughts of my dear little friend on the other side of the north-american landmass drifted in. "gee whiz," i would think….
i want to call her, out there over the ocean.
i thought about my quiet chat here a week or two ago….
even now, she's all i can think of and how that eduardo ciannelli-sounding lizard guy – who looks like omar sharif – hasn't even bothered to show up here yet again and how i know it could be more about kindness than anything else. i want believe that the grifting lizards from mars understand.
then again, it just might go to show how well the beings above us on the food chain know their diet staples.
i write to her online and drop texts into the televoid.
…..a call to her from way inside, in there, the heart of the universe, smack-dab in "the eighth-electro-plasma-ocean of the ninth dimension".
this will humm through me like a silent song as the cat lady and i walk across the dunes and into the brush while we speak of herons, woodpeckers egrets, freakshows, showbiz, exploitation and youth – though we're a generation apart, i marvel at life's innate sameness….. and i'll wonder about radiation sickness as we go to the car and i suggest a tour of floyd bennett airfield on the way back, "sure…," says the cat lady…….and we drive on runways 33 and 24, to places where photo-ops would present themselves in empty buildings….
i title the above "fashionable cat lady with large dog in abandoned building"
i looked out the window and i went click….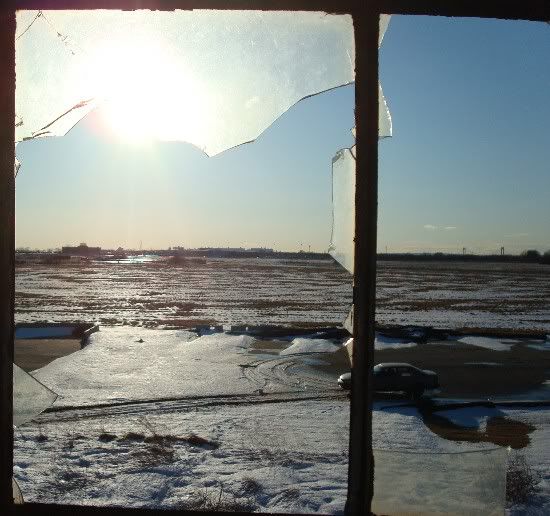 and i looked out there and began to talk about how this area is the "go to" place for astronomers without a budget and how it's the darkest place in the entire metropolitan area and where i will go when told about any and all meteor showers, celestial disco parties or any end of the solar system scenarios.
when i landed in new york in december, i remember peering out the plane window and looking down at blackness that was not the ocean.
i had read about the old airport's pitchness and there it was (or wasn't) before my eyes.
i have no photos….you'll have to trust me.
if the galaxy is ever scheduled to explode and you don't want to drive to jersey to see the big bang, get on your bike and get to gateway.
last stop before leaving was the old hangar.
the cat lady was enchanted.
it gave me the opportunity to put into perspective "a little humanity in a space," like this;
the cat lady was "fearlessness in sneakers."
she tromped through snow and muck and puddles.
she was returned to her kitten a short time later with tales of dogs and beach adventures.
me and maxx went home.
i got a text message a short while later from my dear friend.
"hey murdock" it said.
that's me. sometimes.