mortadella, cold-cut of death.
morta means death. della means any or of.
mortadella got the nod today, prompting me to learn a brief history of baloney.
oh, that wikipedia.
most of it i already knew – the "bologna" part, i mean.
it started out that i wanted to see my friend mike and get a baloney hero.
i can't remember when i last had a baloney sandwich, but part of me says it was in the holding cell of a precinct somewhere in east new york in the late 1970's. by the time i got to the pork store where mike was, i "reformatted" by request and chose the mortadella, because it sounded nicer and the holding-cell baloney memory had crystallized in my mind.
if i go mortadella, i can raise the baloney roof but shorten my life expectancy by a few seconds because of those fat patches;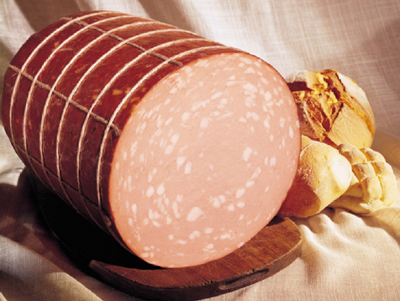 ….see all that white stuff?
it's better not thought about, but it sure tastes good.
i get a small nuclear charge out of life when i say "sandwich time" on such a day as this. i like it. maxx likes it,… even buddy likes it.
especially when i haven't had a "death of sandwich" in years and years.
as close as i've gotten in decades were my liverwurst dalliances, which is a whole other sandwichness.
so it was with this sandwich i sat and began my show booking. i switched on the tv, TCM on the ready, and there was arguably one of the greatest american movies ever, "the magnificent ambersons" on.
so me, my dog, my cat and my sandwich huddled in the greys.
this time viewing the film, it was a monster movie.
a slow, dark, onerous monster movie.