a few days ago i rode around brooklyn. i dropped papers off to legal people, i dropped off cash to the gangsters over at con edison and i found out that my six-thousand-dollar bill to the gas company was an error. they have since sent me another bill for two thousand dollars. on this bill, it says that i'm still "contesting" it. this is in downtown brooklyn, so i decided to ride to the brooklyn heights promenade. if you don't know about the promenade, it sits directly across from lower manhattan at the east river, south of the brooklyn bridge. it's where the twin towers would rise up from the gaggle of lower-manhattan buildings in that architectural wonderland where the newest and oldest skyscrapers in NY are found. sitting on a bench, looking across the water, it occurred to me that i can no longer pinpoint where those towers rose up. of course, after doing some mental NY geography, i remembered. "right….THERE" i said to myself. i thought about how it would be really great to photograph my journey that day and i made a point to do this again in a few days.
so, a few days later, i got on my bike, checking to make sure i had my digital camera in my shoulderbag. i had to see the people who were filing my beer and wine license renewal and their offices were on atlantic avenue down by the brooklyn docks that are going to become a waterfront park. it's below where i sat last week on the promenade in brooklyn heights, which brings to mind something. it was on that promenade that i told a girl that i loved her. i was 19 years old. her name was carole. there wasn't a trade center across the river yet, but they must've started the job around then. we had driven to brooklyn heights because i never knew about the promenade. she suggested we go there. i owned a 1959 triumph TR-3 roadster that looked like this;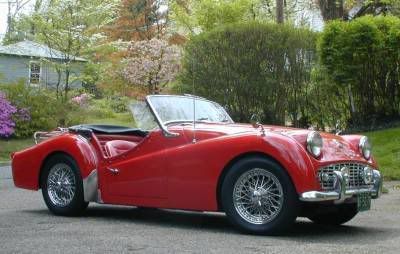 imagine that. i was born in brooklyn and never knew about the brooklyn heights promenade. this shows just how provincial i was, but that's something else, again.
i had a bunch of these cars between 17 and 20 years old. i learned to restore them. the first one i had looked like this;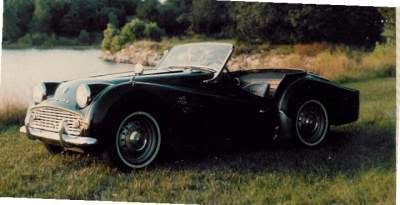 i traded my 1955 volkswagen to a guy named mark for it.
but that's not what i was talking about. i sigh. i think back and am sad for a moment before thinking how lucky i was. once, carole, myself and the red TR-3 drove to nyc, to the west village to see the play "one flew over the cuckoo's nest." it was the first revival of the original play that starred kirk douglas. this one had william devane as macmurphy or at least someone who looked like him. this stuff surfaced as i sat on the promenade that day last week. i wonder if these are the things that run rampant in old crazy people who stare to forever, silently, in wheelchairs aimed window-ward in nursing homes. i remember visiting dolores last year, just before she shipped out for magicland. i shudder. i'm back on my bike, stopping between the manhattan and brooklyn bridges on york street and am taking out my camera to document this day in images. i want to get that shot of the manhattan bridge spire coming at the end of this narrow street on the brooklyn side. i stare at the digital viewfinder-screen after hitting the power button. the image of a little battery in pain flashes repeatedly on the screen for about three seconds then the camera cuts off. "click," i say to myself. it'll be a day of kodak moments in my mind. days will go by. i'll find a pabst beer bottle from the 19th century that's been hidden in my office.
i'm just beginning to remember that i have an office. it was where i would take naps with buddy nestled on my chest back when there were nothing but boxes in the place.
i'll get this idea of shooting the bottle in different areas of the store while speaking about different places i visit as i'm riding around brooklyn, like this;


this is where a photo of the brooklyn bridge would be and if you follow the line across to manhattan and look a little to the left of it, you'll see a gothic skyscraper – that's the woolworth building. a little to the left of there, where that patch of sky is, is where those two buildings used to be.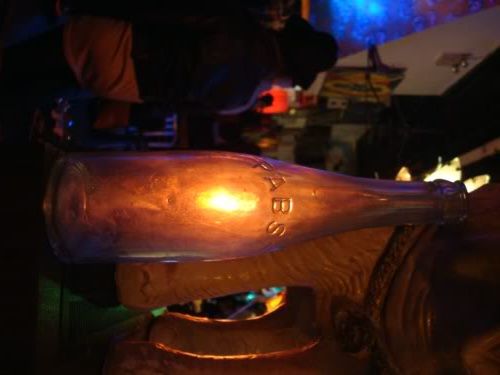 this would be a photo of furman street, heading south toward atlantic avenue. just above here and left, behind that low wall with the metal rail is the brooklyn-queens expressway, and that overhang above it is the promenade, where this story originated. i even sigh looking up at that place.


everywhere you look there would be signs that read "SKANSKA". it's a safe bet that these are the guys that are building the new waterfront park and housing with the million-dollar condos all over there.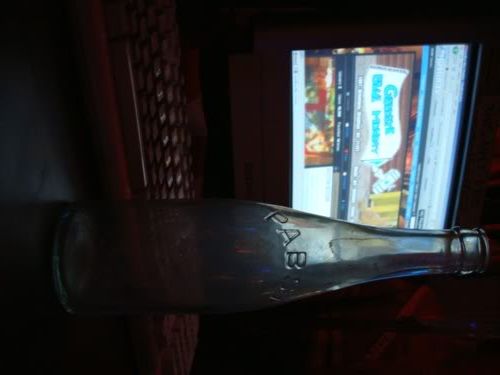 and this would be a pic of what's left of the docks – this is going to be parkland, offering an amazing view of lower manhattan tp people rolling in dough, maybe in the future.


this would be a picture of joralemon street looking up the hill from furman street. the beautiful cobblestone street is where i found a job after walking away from that job at gibbs and hill, something i mentioned a few blogs ago (my last office job). i guess it was 1976. i worked in a longshoreman's bar that had renovated itself into an italian restaurant called "jimmy's". i would lie my way into a job as bartender and waiter. the other bartender was jimmy, the 70 year-old owner. the chef was his 40 year-old son. the sous chef was his 65-year-old mother, nan (annette). i would be friended by norman mailer and his wife. i would learn all sorts of things about cognac and fine dining. i would sit in front of the door to this place with a shotgun across my lap one night in july of 1977 when a blackout would envelope the city as all hell breaks loose in downtown brooklyn. the chef would sit at the other side of the door brandishing a 45 calibre hand gun. packs of looters would head down the hill towards us, the chef scowling as he invited them, "come on in and steal something. c'mon…." i shudder to think…..
this is what happens when i go to where i was.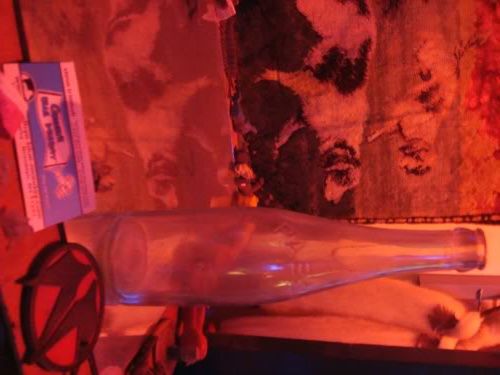 it's like unearthing old photos, tapes and movies. there are cobwebs inside my heart.