to me, this pic looks like a cheesy scene from home-made sci-fi. it's actually our backyard space…….


and there's the occasional legs and ladders …


trying to get it all together, something that is less than a trademark at times…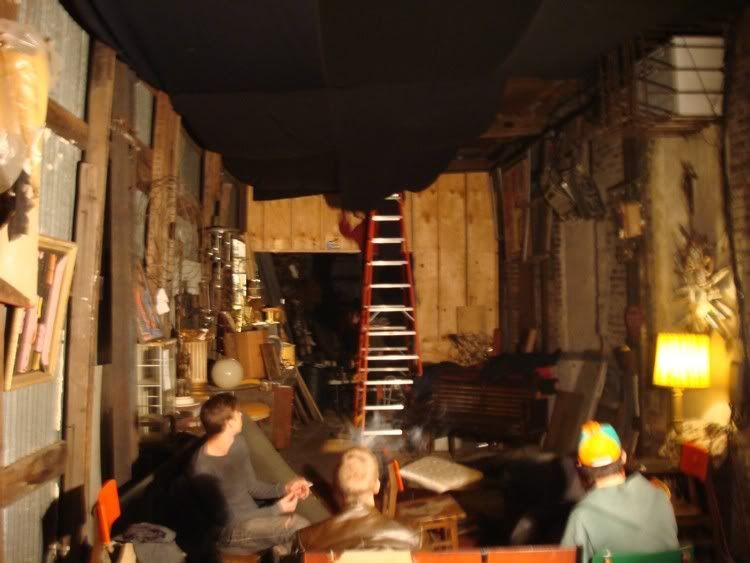 as we gear-up the winterizing of the cordoba garage theater………..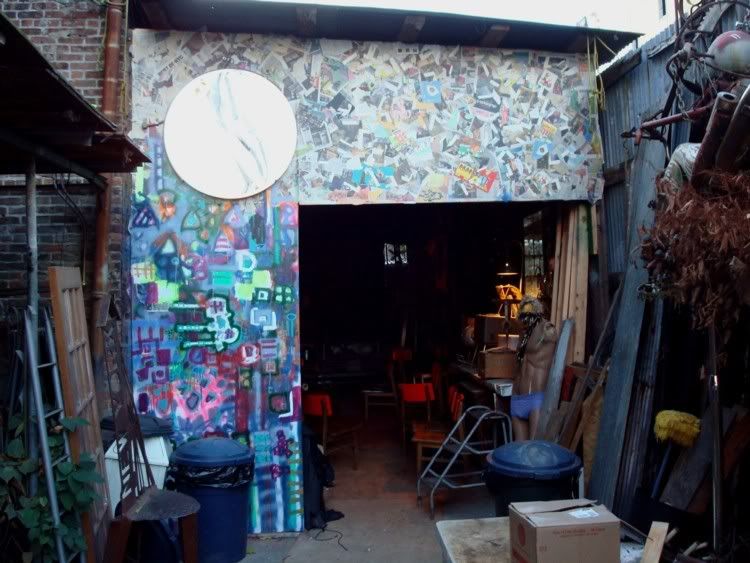 the marquee is at the center at the entranceway into the garage and if you're real close up to it, it looks like this;


my wonderfully supportive friends tom (magnets for teeth) and his dearest katie combined on giving artistic life to the front(that tom constructed a week before) by way of paste-up and paint working from separate points, meeting at the big-round-mirror at the upper left corner. our resident twelve-year-old, C.J.-chris, also assisted in the process. the interior and roof work has been the province of adam amram (NY Howl) and Matt Manold (sadges and our soundguy)
but for now, before i launch into whatever i'm going to end up talking about, let me tell you what i woke up to this morning;
….. a barking dog (mine), ringing phone (mine) and a sense of utter chaos screeching through my head. the front of my store had a ring of cones in front of it with flourescent streaming plastic with words like "caution" and "property of…." running on it like a mantra of dread. the truck was parked at the corner. the "dig we must" guy approached me and told me that we had electricity grounding at our metal gate. this is the stuff that has killed dogs and even a young woman in the east village a few years back and is a constant threat every winter because of the snow, ice, road-salt cocktail that eats electric insulation. zzzap!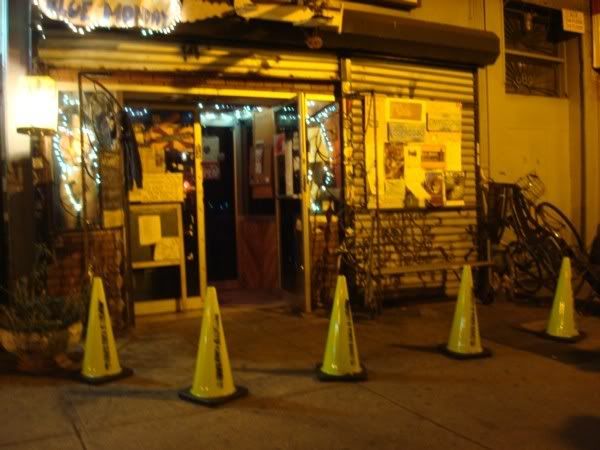 this is sort of what it looked like (they left the cones for some reason), except we were closed and it was daytime and there was a bunch of like-colored tape strewn absolutely everywhere, the last of which i found and photographed so you could see it here;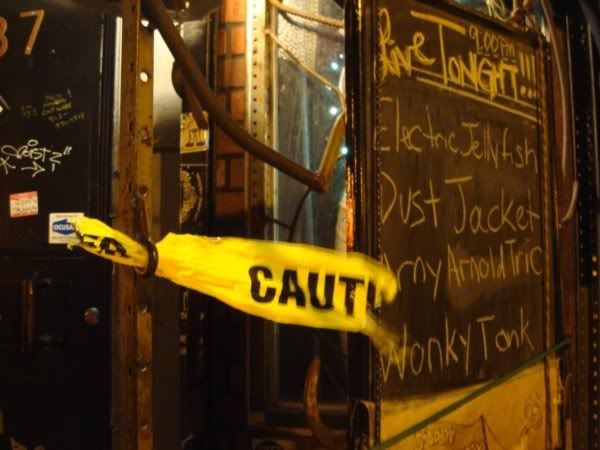 that stuff was tied from cone to cone to cone and all over everything.
it was horrifyingly impressive.
it reminded me to pay my electric bill.
but i digress. i live to digress and by now if you know me, you know that as well.
quick note here – we put stage lights above the stage. it looks all kind of stagey and sexy.


above is the Manson Family Picnic


and above here is Julie from ching chong song, kevin blechdom on piano and their friend christopher on that other bunch of things…

and one other thing for the moment – we've begun to book all-ages shows. this is what a young person looks like on stage here;


so check the calendar – there's more and more young person's shows, generally running from 5 to 9pm.