…..and i neither knew nor cared who was playing. don't get me wrong. when i was a kid, i breathed baseball. it mattered to me and up until not too long ago (like, when they stole the glove out of my car's trunk when they stole my car), having a catch and throwing a few high fast ones made me think back to south highway little league and being a paperboy for the new york world telegram and sun (but that's another story). i stopped watching baseball on TV almost forever ago except for when i wanted to sleep. TV baseball is better than valium when it comes to sleep. as i watched tampa bay (i don't even know the team's name) play boston, there was this question playing in my head, over and over,"what are you doing watching this?" and the answer was,"i need to shut myself down so badly. i implore you, television sports, please lobotomize me for a few hours. put me to sleep." and the game went on for hours. i stared at it and past it and didn't go downstairs to check on my store's business or anything. nothing mattered. as i watched ballplayers go through the motions that mattered to them and their fans, i thought about john galt – that guy from Atlas Shrugged – that book i mentioned a while back written by that lizard who gobbled up ayn rand. while the home runs were "flying out of the park" (there were something like seven home runs this game), i was wondering about what happens now that everyone activated their u.m.b.o. boxes all over the world. (see umbo box blog 9/16/08) then i thought about john galt making eggs in a roadside diner and i wondered if goodbye blue monday could be my roadside diner. i thought about the link between me and the john galt character. then i realized there was none. here is as close as i got; i was an editorial proofreader for an engineering company that had a lot to with trains (as opposed to train wrecks – there's a blog about that, too), so maybe i have more to do with hank rearden than john galt, which also amounts to virtually nothing.
lately, i've been feeling like i have a lot to do with nothing which might sound very "zen."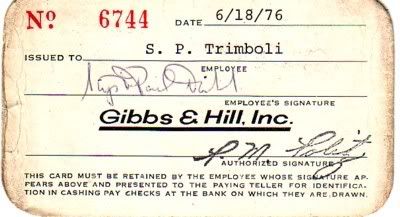 it was the last job that i'd have that would have anything to do with a five-day, nine-to-five schedule. upon  hiring me, i was sent into a room to watch a twenty-minute film about how Gibbs&Hill installed 90% of the railroad switches in america. not long after getting this card (above), i had an anxiety attack and told my supervisor that i had to leave. he said,"what? you need to go home?" and i said,"no. i need to go."  and i went and can remember walking on 34th street with no direction, though i was heading east from seventh avenue. that's when i found out that "no direction" is a direction. i can only recall a sense of peace and that wherever i was going and whatever i was going to do, i would be alright. the job i had prior to this was a company called ford, bacon and davis. they too were engineers, but they were about things like atomic energy, sludge as fuel and new jersey bus lines. it was better reading and editing material but my job there ended as they shut down the new york office. before that was a shipping company that was located at 90 west street. i used to eat lunch in the twin towers as they were being constructed. you could take the elevator as far as it could go and sit in the windowless, wall-less, open-air trade-center 80 stories up. neither of the towers were completed yet (although they were built to the top, the floors, walls and windows were incomplete.) there's a movie about philippe petite called "man on a wire," about how he snuck into the towers back then and was able to walk back and forth across them with a balancing pole. it happened around the time i worked there, but i was never early or on-time for work, so i missed it when it happened. that job let me go because of my habit of falling asleep in the bathroom stall after lunch. there was a mccanns bar on the corner of trinity place and their roast beef and briscuit sandwiches had less to do with my sleeping than their incredibly inexpensive whiskey.
i can't remember which inning it was while i was thinking about this stuff. at one point apparently, one inning of this baseball game took about an hour to complete. i was probably thinking how the trillions of dollars that had gone "poof" were probably not going to make it any easier for me to raise an investor for my business (yeah, i'm still doing that). it was probably at this juncture that i thought about how i would try to make that john galt/steve trimboli link. i'm pretty sure i dismissed it as soon as i thought about it, but i thought about how this business might be more recession-proof than assurances by promise-dealers whose jigs were up. which leads me to this – where does that come from? (the jig is up). at this point in the ball game the score was tied eight to eight and i said fuck it, i'm gonna walk my dog and buy ice cream. i have kicked so many addictions only to jones for ben and jerry's. i won't allow myself to worry about my business tonight. maybe this is what i would call a vacation. maybe knowing that i have to get the backyard ready for Moonshine Shorey and his crew from the Bowery Poetry Club first thing starting tomorrow morning will keep me honest. Adam and Matt built a new stage inside and Tom built a new front to the space outside and it was now just a matter of putting the whole place back together. tomorrow morning i could work quietly alone in the backyard and try to collect my thoughts somehow.
this would –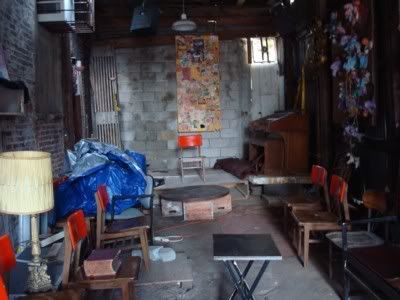 become this –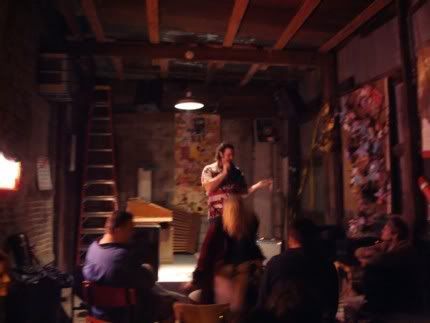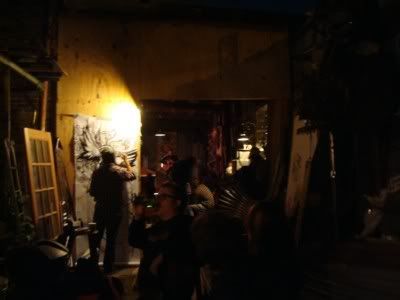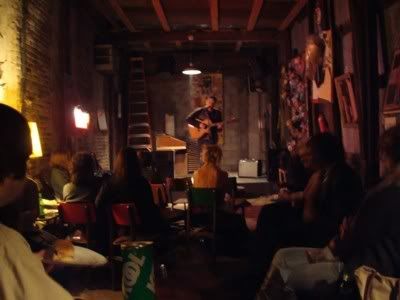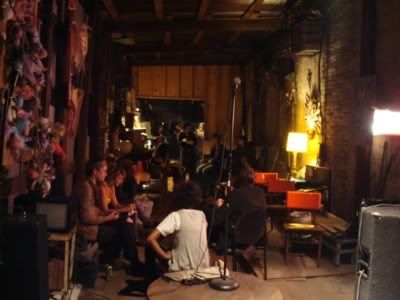 and the night was filled with music and performance by the likes of Jen&Moonshine, Archivist (fr.Montreal), Sean T Hanratty, Andrew Katz (from NY Howl), A Brief View of the Hudson, Wendy Eggers, Nodua, Jason Trachtenberg (without the family or slideshow) and a whole bunch more i can't recall at this moment along with painting on the run.

the stage is almost twice the size of the old one and it's no longer walk-in refrigerator-walls laid down on a base of old tires. progress is what we're all about here. but we did retain the round disk with the retractable cat-walk (yes, i said catwalk)and will be getting that ready for fashion shows and beauty pageants. the next thing to take care of is weatherproofing the roof, installing our vaulted cloth (fireproof) ceiling and starting our film series. yes – i said film series. LOCAL, CLASSIC, EXPERIMENTAL – coming soon. get your 8mm, super-8 and 16mm ready.
but i digress – Moonshine, in addition to bringing such wonderful talent, didn't bring too much ham along with him but DID bring incredible farm-raised Vermont beef for the BBQ and we had the best burgers ever sizzling on our grill here in the three+ years we've been here.
i want to thank everyone who was part of the show last night. it was wonderful.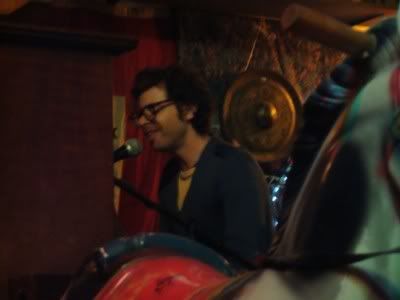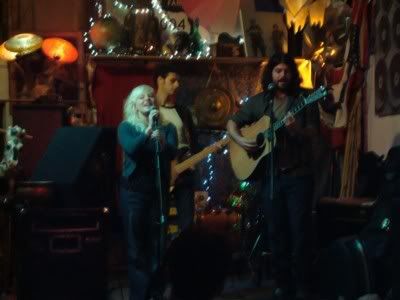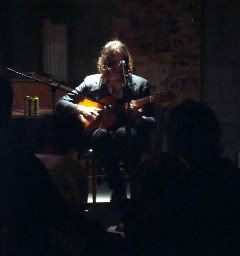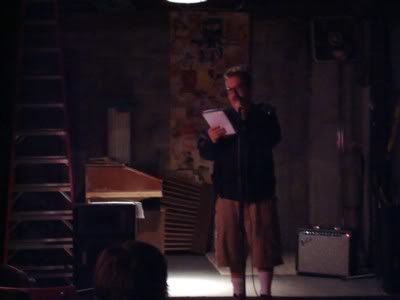 so at the end of the night i went upstairs after maxx's final "elimination" walk. when i cozied up to watch superjail, assy mcgee and the other adultswim reasons i won't sleep till 4am, i unloaded the camera to the computer to move this blog along, wanting to have it up and available for tonight, monday.
at the conclusion of this blog, please head back to this link – it's been re-posted in march of this year from august 2007 .
– in it i talk about growing this business, hopefully with help from an investor or investors. in this i talk about things that i would do and it's important to let the reader know that i do what i say. we are streaming live, recording and archiving much and soon, all, of our music. as i said a long while ago; goodbye blue monday is poised to mean something in the future of music. we will refine what we're doing here and get better at it.
everyday we're serving food, soups and snacks and we're going to be extending the counter (or "bar") to fit our mini-kitchen and expand our menu.
a-year-and-a-half ago, aside from buddy's (my buddy) and my own physical problems, i was five months behind in my rents and my business loan – the one that holds my business as collateral.
since then, goodbye blue monday has become current with its bills and operating expenses. i have done the things i had spoken about in a blog from august 2007. the bank who holds my business loan said it was "nothing short of a miracle." that's what the bank officer said to me. that's growth.
because of the nature of what we're trying to do here, some days are hit-and-miss; a freeform music and performance venue is a gamble, but there's a neighborhood forming around this place. slow and steady growth has not been considered attractive in a world of cookie-cutter, i-want-it-now sensibilities.
investment in purchase of the building could, as i said a year ago, lock this place in for the long haul.
this blog began with baseball and i hazard to say that it will end with baseball, beings that it's just me again, trying one last pitch.
i threw a lot of baseballs when i was kid. if i could get my hands on another lefty baseball glove, i'd probably throw a few more, but for now, this'll have to do.
please repost this.
investing in goodbye blue monday could make you cool, famous, smart and sexy. really!
oh, and you'd probably make a few bucks, too.